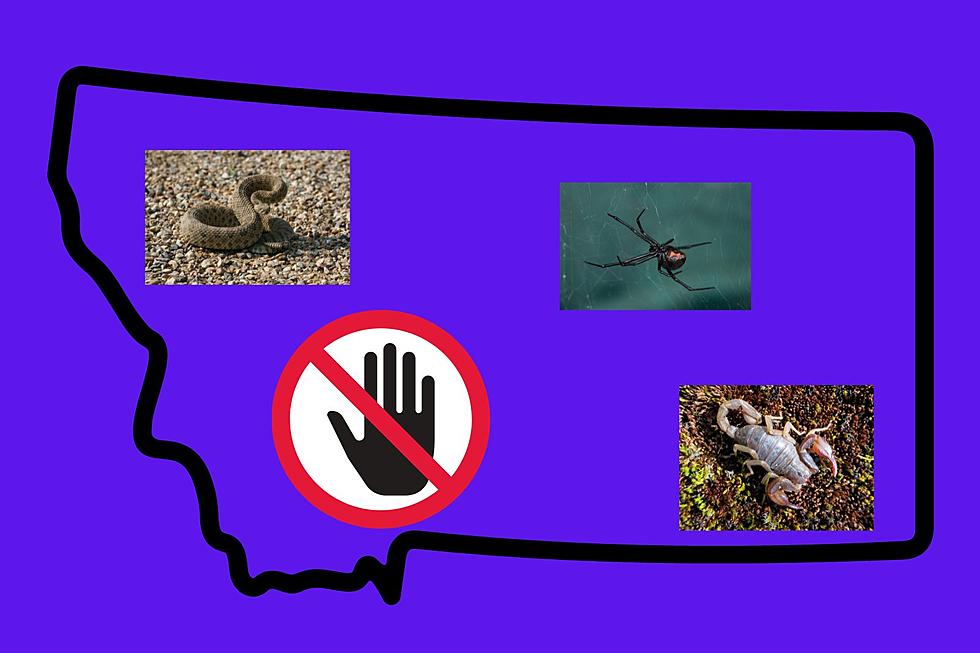 Montana's Poisonous or Venomous Animals That Are Dangerous
Credit: Canva
Now that the weather is warmer, the usual warm-weather creatures are starting to make their appearances. Last week, Missoulians debated which snakes can be found in Missoula and we learned that there may be snakes in places where we might not have expected them.  
In the following days, I saw someone say they believe their cat was bitten by a snake and others who mentioned snake encounters in the area.  
But it's not just snakes that can be dangerous in Montana, and when Montanans think of dangerous animals their minds go to Mountain Lions or Bears. Poisonous or venomous creatures can be dangerous, too, but sometimes they're easily forgotten.  
Fortunately, Montana doesn't have that many poisonous creatures, but we do have a few. 
Prairie Rattlesnake
As we learned from the Montana Fish, Wildlife, & Parks flyer, "Living With Montana's Snakes," the Prairie Rattlesnake is the only venomous snake in Montana. We do have Milksnakes, which can be confused with venomous Coral Snakes, but Milksnakes are non-venomous.  
Widow (Black Widow) Spider
Widow Spiders are one of only two poisonous spiders in Montana, according to an identification guide put out by the Montana State University Extension Service. And the Brown Recluse isn't one of them. Brown Recluse spiders have not been found in Montana, according to the guide, and assuming this is still true (the guide was published in 2005), this is another myth like, "There aren't any rattlesnakes in the rattlesnake" that has been floating around.  
Aggressive House Spider or Hobo Spider
These are the "basement" spiders because you'll usually find them "on the ground or on lower floors." What also unique about this spider, the guide says, is that their venom is not a neurotoxin, like the Black Widow, but necrotic.  
Northern Scorpion
These are difficult to find because they're nocturnal and the Montana Field Guide says it's rare that they sting humans, but it is possible.  
Bees or Wasps
It might not seem like a bee or wasp should make the list but your chances of dying from a bee or wasp sting are higher than that of a snake bite, so it's a worthwhile addition. 
For most if not all of the animals listed above, it's very rare that you would ever be bitten, but it's still a good idea to be aware of your surroundings and be able to identify the species that are potentially dangerous.
Have you encountered a venomous or poisonous animal in Montana that didn't make our list? Send us a message on our app.  
Beware! 10 of the Most Deadly Animals Found in Montana
Montana is full of wild animals, and many of them can be deadly. Here are some of the deadliest animals that are native to Montana.
10 Unexpected Animals That You Might See In Montana
Montana is known for a vast array of wildlife, but there are also some animals that are rare to come across.
More From Z100 Classic Rock