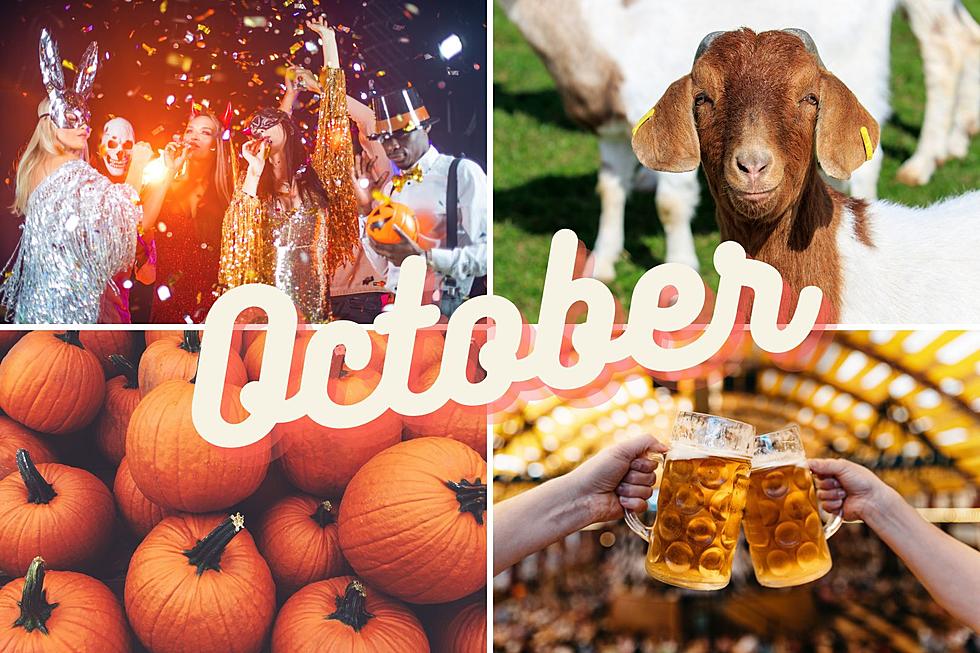 All the Missoula Area Events for October 2023
Canva
Welcome to spooky season in Missoula! This month you'll get your share of pumpkins, festivals, the wacky, the weird, and the fun, and performances from Macklemore, Reggie Watts, Preacher Lawson, and David Cross.
Throughout the Month of October
Pumpkins for the Pov--buy a pumpkin with purpose and proceeds will help to serve the vulnerable populations of Missoula. A list of sales locations is available here.
The 60th Annual Z100 Great Pumpkin search is on! Find the pumpkin and win prizes from Z100.
The Annual Pumpkin Festival at Turner Farms will take place over three weekends: Oct 7-8, 14-15, 21-22.
The Missoula Haunted House opens on Friday the 13th.
Have an event you'd like to add? Send us a message on our app.
October 1
11:00 am - 3:00 pm Fall Harvest Festival, hosted by the Historical Museum at Fort Missoula. A day filled with food, crafts, and activities. Find out more here.
1:30 pm - 4:00 pm 2nd Annual Goat Races. The parade of goats starts at 1:30 pm, races start at 2:00 p.m. Highlander Brewing Company. Details here.
2:00 pm - 6:00 pm Harvest Party at Western Cider Co, with an apple press competition, music from the Timber Rattlers, and free food. Find more details here.
October 5 - 8
Watson Children's Shelter Tennis Pro-Am, a tournament and fundraiser. Full details are available here.
October 7
12:00 pm - 6:00 pm Germanfest, a celebration of Missoula's relationship with our sister city, Neckargemünd, Germany. Held in Caras Park, the event is free.
5:00 pm Griz vs. UC Davis
October 10
6:00 pm Flower Crown Workshop at Zootown Community Arts Center. Register here.
October 11
7:30 pm Macklemore, Adams Center
October 12 - 15
9th Annual Montana Film Festival, hosted by the Roxy Theater. Find full details here.
October 14
4:00 pm 13th Annual Tweed Ride, hosted by Free Cycles
8:30 pm Griz vs. Idaho
October 15
8:00 pm Preacher Lawson, The Wilma
October 16
8:00 pm The Hu, The Wilma
October 17
8:00 pm The Mavericks, The Wilma
October 18
7:00 pm Stoke Film Festival, The Wilma
October 19
8:00 pm David Cross, The Wilma
October 20
7:30 pm Haunted Missoula Squares, an in-person version of the classic game shot, but spooky. Hosted by Ferd Po at Zoo Town Community Arts Center.
8:00 pm The Lil Smokies, The Wilma
October 21
10:00 am - 4:00 pm Fall Festival--pumpkin carving, painting, hand-craft vendors and more, at the Missoula Fair Grounds. Hosted by Cancer Support Community Missoula. Find more details here.
8:00 pm - 12:00am Montana Goth Ball, Zootown Community Arts Center 
October 24
8:00 pm Reggie Watts, The Wilma
October 25
7:00 pm Wold Ballet Series: Cinderella, Dennison Theater
8:00 pm Andy Grammer, The Wilma
October 27 & 28
8:00pm & Midnight, The Rocky Horror Show Live!, The Wilma
October 28
1:00 pm Northern Colorado vs Griz
October 29
3:00 pm Halloween Choral Spooktakular - "spooky music and trick or treating", Denison Theater. Buy tickets here. 
8:00 pm Henry Rollins
October 31
5:00 pm - 7:00 pm YMCA Missoula's Hoot and Howl Halloween Bash
8:00 pm Mersiv, The Wilma
21 More Missoula Businesses That We Would Like To Return
We wrote about
24 Missoula businesses
that you all said you missed. We thought of 21 more that we think should be brought back.
Gallery Credit: Chris Wolfe
More From Z100 Classic Rock