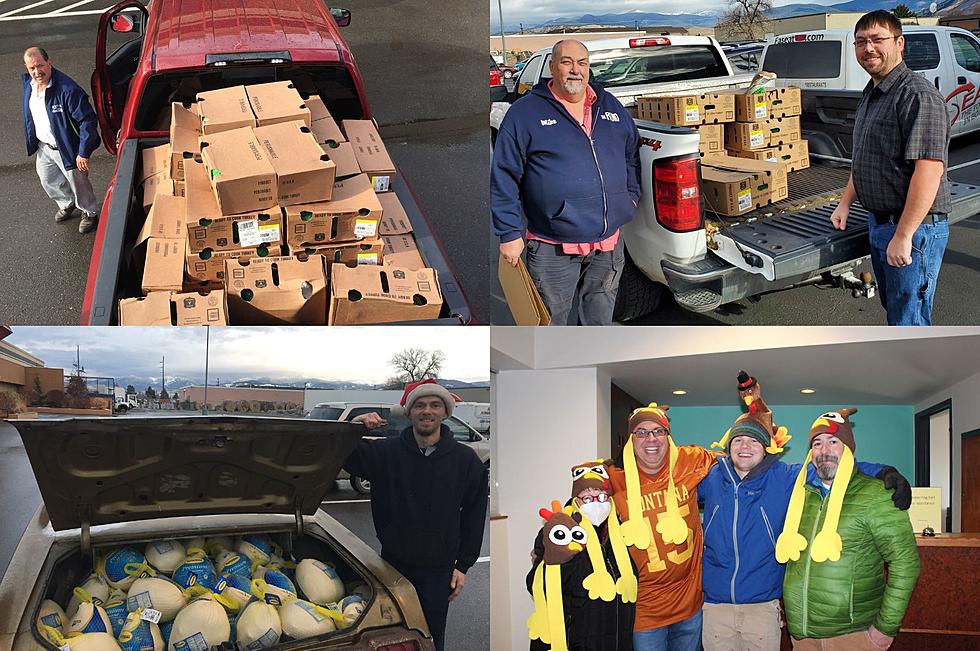 Missoula's 2023 'Guerrilla Turkey Drive' Needs Your Help
Credit: Chris Wolfe/Canva
The 2023 Guerrilla Turkey Drive is getting underway and the need for turkeys and donations is high once again this year. For the past 28 years we have been collecting turkeys and cash donations for area food banks.
Every year we are asked why it is called the "Guerrilla Turkey Drive". It started with a few listeners of the radio station hearing the call for turkeys and donating some at the radio station. It is compared to "Guerrilla Warfare", as we are trying to fight hunger one turkey at a time.
The Turkey Drive Focus is On The Birds
The focus from the beginning has been on the collection of turkeys, which for a lot of people is the main focus of a Thanksgiving dinner. This has always been a promotion that we have tried our best to make enjoyable for our listeners and do what we can to help provide food for area food banks that are trying their best to feed the people of Western Montana.
This year we will again be asking for your help to feed the friends and neighbors of Western Montana. We will be helping the following food banks.
Western Montana Food Banks Are Seeing Increases in Need
I spoke with Rebecca Paquette of the Missoula Food Bank about the need this year and what they are seeing. Here is what she had to say:
We certainly are having more families coming in. We're certainly having more individuals who need to shop more frequently at the food bank than ever before...We're just seeing that frequency increase. 
Even with the increases Rebecca and the crew at the Missoula Food Bank are staying positive:
That's what we're here for in the community, and we're so. happy that we have the support of our generous community to be able to offer people that can come in once a week for for perishable groceries and non-perishable groceries. All

the things that their household might need.

 
Some of the area food banks have seen an increase houselessness. Judy Williams from the Haven House, that serves both Hamilton and Corvallis, has seen an increase in that area. Here is what she had to say:
We're seeing a lot of men come in all ages, young men, older men coming in to get food and so many of them seem to be homeless. They're living in their trucks, their cars or whatever. They can't find a place. It's awful. I feel for them.

 
We Can't Do This Without Our Sponsors
We continue to try our best to serve these communities with your generous donations. We also couldn't do this without some amazing sponsors that not only help get the word out, but also help with donations. TrailWest Bank, Missoula Electric Co-Op, Decker Truck Line, Bitterroot Shedz, and KPAX-TV.
Please Help and Donate This Year
We will be collecting donations Monday November 13th through Friday November 17th at 3250 South Reserve Street. Bitterroot Shedz will also be collecting donations in the Bitterroot Valley for the first time at 2101 N. First Street in Hamilton. All donations that go to the Missoula Food Bank will also count towards the annual "Can The Cats" food drive competition.
We thank you for your donations and support.
THANK YOU! Photos from the 2022 Guerrilla Turkey Drive in Missoula, Montana
Townsquare Media Missoula would like to extend our sincere gratitude to all the members of the community who made the 2022 Guerrilla Turkey Drive possible this year! A special thank you to our sponsors Decker Trucking, KPAX, and Missoula Electric Cooperative. It was a fantastic day of giving. 🦃💛
Gallery Credit: Ashley Warren
More From Z100 Classic Rock